Mehendi Design
Getting a beautiful latest mehndi design on your hands and feet is more than just a normal Indian custom. When we were girls in school, we patiently waited for the festive season to run to a mehndi artist sitting in a nearby market with his book full of mehendi design , or call our mother's trusted mehndi artist to order to soak our little hands with the beauty. of henna. At home, on occasions like Karwa Chauth and Diwali, we would gaze in awe at the beautiful hands and legs of our mothers and other aunts.
At every step of the journey from adolescence to adulthood, mehndi designs have played a major role in marking each milestone. In Indian families we celebrate every occasion, wedding and festive ritual or offering with the touch of henna on our hands. Over time, the use of mehndi by Indian women has categorized as the "Solah Shringar" symbol. Celebrating traditions or a new beginning has always been the "auspicious sign".
Mehendi Design
The ever-evolving role of mehndi touched new heights as it became more than just a tradition to be followed. With the skillful hands of creative mehndi artists, women can now receive beautiful stories documenting their love's journey etched into their hands for their wedding day. Bridal mehndi has also seen the trend of developing elegant Arabic mehndi design patterns, while traditional full-hand mehndi featuring portraits of the bride and groom remain evergreen. Amid the growing demand for various henna designs in fashion, one often finds it difficult to narrow down to one mehandi design meant for one's personality.
No fear! We have assembled an extensive selection of Mehndi designs to help you choose a design that suits your style. Choose from personalized full-hand mehndi designs, Arabic mehndi designs with ethereal dark accents, trendy leg mehndi designs, etc.
New Bridal Mehndi Designs
Your choice of mehendi design for your bridal hands plays an important role in amplifying your wedding fashion. Your bridal lehenga and bridal jewelry don't have to be the only "real" elements of your wedding look. There are countless modern mehndi styles for brides from complicated designs that cover your hands, patterns that twirl around your wrists and extend to your elbow. An overgenerous and OTT mehndi design can be as majestic as your wedding attire and jewelry.
And personalized wedding stories written on your wedding day with patterns around your hands inspirations that can leave you in awe. and confuse about your choice of mehndi for D-Day. Our selection of 20+ bridal mehendi designs includes full hands bridal mehndi designs, traditional mehndi designs, 3D bridal mehndi designs and the latest bridal mehendi designs for minimalist and modern brides. Here is your ultimate guide to the latest bridal mehndi designs.
Latest Royal Bridal Mehndi Design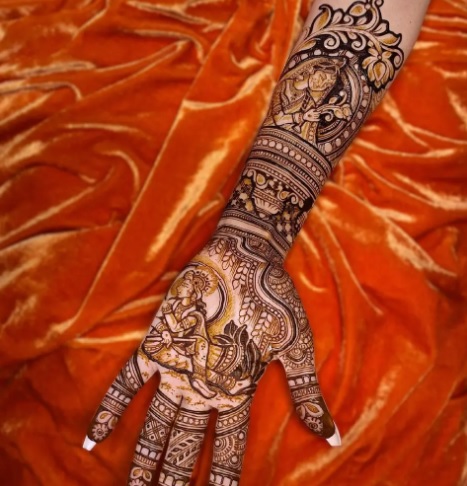 This wedding bridal mehndi design for front (upper) hands here inspired by the ethos of a royal realm. Especially the way the artist depicted the maharani and the king adorned with floral and peacock motifs.
Walk Down the Aisle Mehndi Design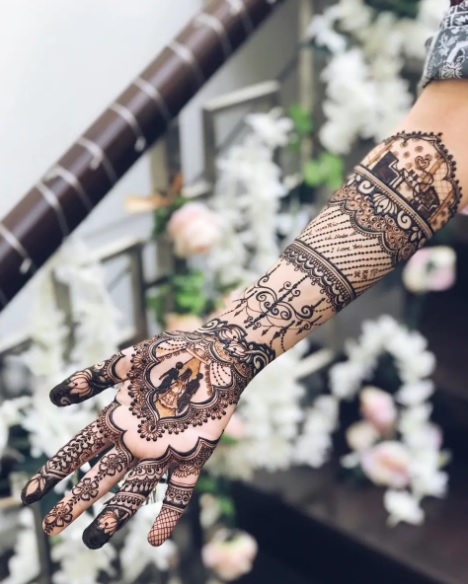 This unique bridal mehndi design seizures your love story from unforgettable date night to marriage proposal story. With absolutely stunning clean strokes and negative space as a unique selling point, this new full hands bridal mehndi design is a one of a kind beauty. Wrap your front hands in elegance with this stunning aisle-inspired design, paired with the best elements of wedding décor.
New Mehndi Design for Marriage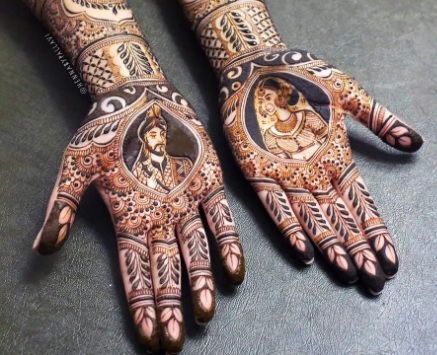 Looking for a traditional bridal mehndi design for full hands? Look no further! With the bride and groom portrait fixed in the center of the palm, and majestic elephants totaling the Indian charm to this dulhan mehndi design, this mehndi by 'Henna by Pallavi' is a traditional mehndi design dream. Keep your bridal look royal with this newest mehndi design for weddings.
A bridal mehndi deck for full hands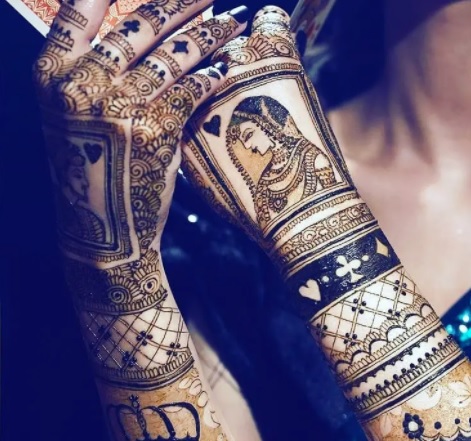 The beauty is in the details! A expert mehendi artist can draw inspiration from everything beautiful and original under the sun. Inspired by a deck of cards, specifically the kings of our decks, this full hands wedding bride mehndi design is elegant.
Latest full and back hand bridal mehndi design
Who doesn't love the henna mehndi design Neha Kakkar created for her wedding soiree? We have! Opt for this simple mehandi design and wrap your hand in the charm of beautiful floral and animal designs. Hints of B-town favorite Raju Mehandiwala add to the perfection of the henna design. Keep it simple and cute and don't forget to put your friend's name on one of their fingers to ensure the name is visible and stands out effortlessly! You can also opt for this mehndi design for your Karwa Chauth or Teej celebrations.
Sindor and Kanyadaan mehndi design
Inspired by the two most important ceremonies on the wedding day that mark a new beginning in the bride's life, this new mehndi design features Sindor Daan on one side and Vidaai ceremony on the other. If you want a total front hand mehndi personalized with your wedding details, this moving description of wedding ceremonies can be a real inspiration for brides.
The Varmala ceremony inspired the mehndi design
Go beyond the high limits of your imagination and get the most iconic and latest full hands mehndi design by creating Varmala ceremony on your beautiful palms. Opt for this latest wedding statement mehndi design for your bridal hands and inspire your bridesmaids.
Bridal mehndi with lotus in bloom
Here's a full-blown beauty for every bride who loves all things embellished! Let your mehndi artist draw your favorite floral designs on the palm of your hand and let the fresh bloom of flowers bring a breath of fresh air to your mehndi design for marriage. This full hand mehndi design is also perfect for women preparing for their first Karwa Chauth or Teej.
Bridal mehndi inspired by your wedding look
If your style is more timeless, best traditional mehndi designs for a full bridal hand with intricate patterns and custom bride and groom art at the center are for you. Let your wedding look be the situation for your mehandi artist and let him work his magic on your hands.
Tell your love story with a mehndi design
From the date of the proposal, to the beautiful Indonesian skyline, to the portrait of her four-legged son, this bride's latest mehndi design chronicled her entire journey through her beautifully crafted hands. No full mehandi design could personalized as perfectly as this one! If you're on the similar page here, get inspired by this bride's mehandi!
Portrait New bride mehndi design
Here's a original bridal mehndi design that we just can't get enough of! If you want to keep it simple yet elegant, take inspiration from this portrait-inspired back mehndi design. This is also an stunning option for minimalist brides. You can also opt for this new delicate mehndi design for your Karwa Chauth or Teej celebrations.
Half and half bride mehndi design
Have your artist paint a attractive picture of a blooming garden with majestic peacocks in their full hands. Let the delicate design wrap her hands in the beauty of nature, that's all it takes to achieve a beautiful royal garden inspired full hands bridal mehndi design. You can also go for this complete mehndi design for Karwa Chauth or Teej.
Sindor Daan inspired bridal mehndi design
If you want the finest of the traditional world, opt for a beautiful full hands bridal mehndi design that documents your wedding saga with the most beautiful elements of an Indian wedding, including a palki for the bride, a grand elephant entrance for the groom and any traditional artist. This half and half wedding inspired mehndi finishes a bride's mehndi design like no other! favorite – peacocks.
Peacock in a bridal mehndi garden
When it comes to traditional mehndi designs, whether bridal mehndi or bridesmaid mehndi designs, peacocks never go out of trend! This beautiful peacock mehndi design with a glass reflection on both hands is the perfect choice for choosing mehndi designs for an engagement or wedding ceremony. This is also a flawless new mehndi design for your first Karwa Chauth and Teej.
Patterns and Suggestions in a Bridal Mehndi
The position point for this mehandi artist must have been a close-up of the bride and groom! The center of your world deserves to be the focus of your mehandi design if you need your henna design to stand out for your D-Day. This new bridal mehndi design is personalized and close to the heart. It displays the couple proposal story on one side and styled with traditional mehndi elements. You can also choose this as a mehndi design for your engagement if you are planning an unforgettable roka ceremony.
Wedding Customs Special Bride Mehndi Design
Lord Ganesha, the bride and groom in their wedding look, lotus flowers blooming in all directions to decorate the bride's hands, and magnificent elephants are some of the meticulous patterns that create this complete bridal mehndi design. Your wedding mehndi design could not be more complete than this!
Tell your love story with your bridal mehndi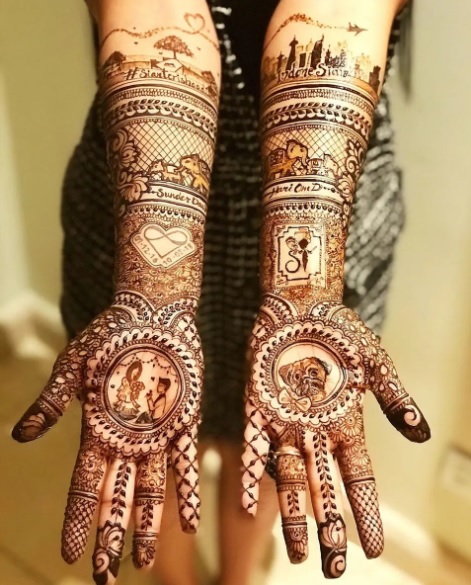 If your four-legged friend will always be your first child, what better way to say it at your wedding than this. Tell your mehndi artist to dedicate the design of one hand to your adorable bud and the other to your love story. Let the city skylines where your romantic brew inspire the edge of your engagement or wedding party mehndi design.
The flower blooms in a bridal mehendi.
Geometric shapes combine with floral elements and ornate leaves to bring the freshness of nature's beauty to your palms. Go for this latest bridal mehndi design for your wedding day if you want to keep it contemporary.
Dance Inspired Bridal Mehndi for Full Hands
Here is another perfect mehndi design for your engagement and wedding party. Opt for this unique Gujarati mehndi bridal design with the dancing figures of the guests enjoying their celebrations in the center of the palm and stunning flowers and leaves adorning the palm.
The mehndi design of the bride and groom.
Here is the latest bridal mehndi design that we love. The bride spins around in her bride avatar and enjoys the company of her groom in this custom Dulhan Mehndi design. However, With dhols and palkis witnessing her wedding ceremony, this Rajasthani mehndi bridal design told the story of her wedding celebration like no other.
The meeting of the bride and groom – cute in mehndi design
Document your sweet journey in your bridal mehndi and customize it to perfection. However, If you gravitate toward the classic, wrap one of your wedding hands in your bride and groom avatar, complete with traditional items and flowers, and leave the other hand on it.
Bridal peacock mehndi design
The favorite traditional element of every mehndi artist – the peacock has come back into play . Therefore, Let the peacock rule your full hand bridal mehndi design by flaunting its beautiful feathers in the center of your palm if you go for the traditional.
The half hand mehndi design of the bride and groom.
A full mehndi design isn't always every bride's choice! If a half hand mehandi design best suits your personality, half hand henna depicting a bride and groom in all their passion for D-Day is the best choice for you.
Simple mehndi designs
If you want to keep it humble and minimalist, we have compiled an edition of 12 mehendi designs that can add a simple. And also, elegant piece of art to your palms and legs. Scroll through these images of easy mehndi designs for brides and bridesmaids hands and choose your absolute favorites!
Simple mehndi with jaal and floral patterns
In this simplicity lies the beauty! Isn't it true that you see this beautiful yet simple jaal mehndi design adorned by this minimalist bride? Hence, This simple back mehndi design elegantly fills your hands with simple jaal without adding too much noise to your palms.
Mehendi design inspired by a minimalist's garden
With enough bad space for your skin to peek through your mehendi design, this minimalist garden-inspired mehndi adds elegance to your bridal look with leaves and simple motifs. This half-and-half backhand mehndi design sets important goals of "keeping it simple and elegant"!
Elegant and minimal mehendi design with leaves and lines
Opt for simple motifs with intricate floral and leaf designs on your hands. However, This simple forehand mehndi design fills your palm beautifully with simple lines. And dots without adding too much whimsy and noise to your palms.
Half hand mandala mehndi design
Take the less is more method with a favorite design from mehendi artists: the mandala mehendi design. This easy mehndi design for your backhand pulls off simple elegance like no other! Therefore, This one also tops our favorite engagement mehndi designs for minimalist brides.
Beautiful simple lotus mehendi design
Are you looking for a easy mehndi design for your backs? And also, There's no getting around lotus and leaf motifs! Make this effortless henna design for any festival or your best friend's or sister's wedding party!
Mehndi designs for full hand
Whether you love a traditional full hand henna design. Prefer intricately designed contemporary motifs on your palms for a festival or wedding ceremony. Or just need inspiration to paint a client's full hands to perfection. With unique mehndi designs we have you covered. Some of which summarize the most creative designs on the internet to try out. And also, Bookmark our gallery full of mehndi designs for your upcoming events!
Elegant mehendi design for full hands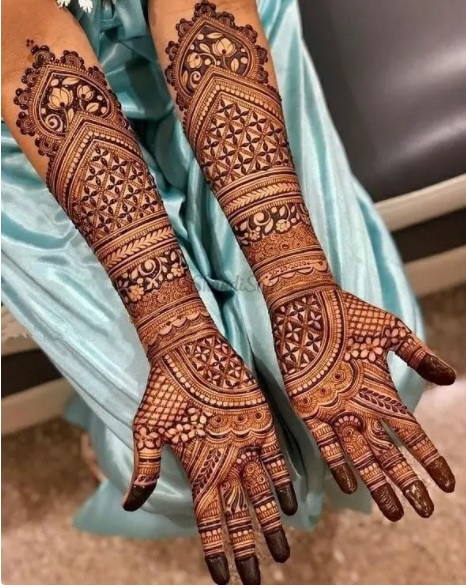 We love this traditional and good Indian mehandi design. With different art strokes of paisleys, flowers, and leaves that have captured us forever. And also, We are already amazed! however, This is a perfect quick and easy mehndi design for Karwa Chauth.