Dusty Rose Hair – Is there anything bright-colored hair can't do? That question was rhetorical because the answer is a resounding no. The levels and variations of colorful hair trends continue to grow and evolve as time moves on and new generations make it their own. Pink hair color in particular has maintained a strong presence in the trend world for decades, though it has materialized in different hues through the years. In response to hot pink early 2000s hair (commonly seen in the form of streaks, overtones and all-over bubblegum pixie cuts), pink hair has matured along with millennials and their signature millennial pink color. These days, it's all about the uber cool dusty rose pink hair color, which offers a bit of effortless feminine edge to hair no matter how it's styled
Dusty rose hair is a great way to try out a fashionable hair color while maintaining a relatively natural look. It's versatile, so varying dusty rose shades of professional hair color can be applied to the hair to achieve a unique and tailored dusty rose look, whether it's a subtle rosy babylights moment or a rich and full root-to-tip take on the trend. There are numerous possibilities when it comes to dusty rose hair, but here's what you need to know about getting the look.
Pre-Color Tips
As with any light shade of hair color, it's important to know that professional lightening or bleaching products might be necessary prior to the actual application of the dusty rose color, especially for darker base shades of hair. This means that brunettes might need to undergo a bleaching session before having their hair pink-ified so that the dusty rose color shows up better.
Before administering any dusty rose hair color, stylists should make their clients aware of the necessary post-salon upkeep routine that will keep their rosy hair looking fresh and fabulous. Due to the dusty rose shade, it's important to keep its pink hue as rich as possible, so clients should use a salon quality shampoo that won't strip the hair of its pink color. Touch-ups are necessary via salon visits and at home maintenance treatments.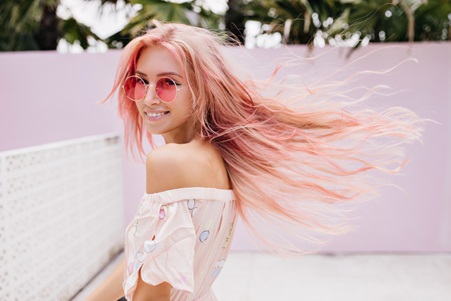 Choosing the Perfect Dusty Rose Shade
While there are many variations of the classic dusty rose shade, it's important to choose a specific hue based on personal preference and intended amount of upkeep. When consulting with a client who wants to get the dusty rose look, stylists should thoughtfully recommend a dusty rose shade and color technique based on their preference, inspiration photos and skin tone. This way, the client will get a personalized experience and a unique color that won't wash them out.
In terms of actual hair color, stylists should choose a high-quality brand that is trusted by salons to deliver reliable creative colors like dusty rose. Vibrant creme colors seen in brands like PRAVANA hair products are perfect for getting a long-lasting dusty rose shade for any client. The key to getting an ultra-personalized shade is to mix different shades of creme color. For instance, adding a bit of grey to a dusty pink shade of hair color will make the look more ash-based, neutral and well suited for the fall and winter months. On the other hand, adding warmer or brighter tones will help deliver a rich dusty rose color that really pops.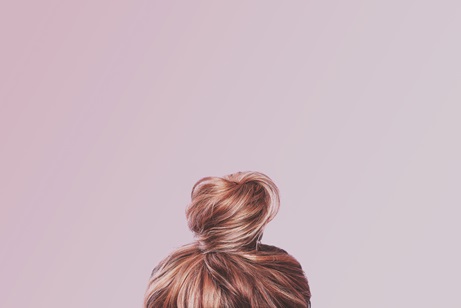 Application Techniques for Dusty Rose Hair Color
Application is everything when it comes to dusty rose hair. In addition to the shade of hair color itself, the application technique can contribute to how the color shows up overall. Using professional salon accessories, stylists can apply the dusty rose color using techniques as subtle as babylights or a light ombre look via hand painting. For more intense looks, stylists might recommend a full dusty rose balayage or root to tip color that is all one shade.
The decision is based on the client's intended result. Stylists should also take the client's hair length and hair type into consideration and recommend a technique based on their hair specifically. For short hair, bobs and lobs, a partial balayage utilizing a soft dusty rose shade is sure to keep things light and fresh. On the other hand, long hair, thick hair or curly locks usually look best with an ombre, highlighted or multi-shade look that gives depth and body to lengthy or curly hair. Whichever shade and technique combination is used, dusty rose hair is a fun and creative way to rock colorful hair!