Wedding Photography Locations – Getting wedding photos is a big deal and will be one of the best ways to ensure you remember your big day. You need to ensure your makeup is done, you have the best nail polish on, and are ready for photos that you will be looking at for decades to come.
You also need to think about things like the weather and your hair, as well as San Francisco flower delivery to ensure your bouquet of choice has arrived on time. However, the location of these photos will also play a very important role in how they turn out. It needs to be a beautiful spot, that fits the vibe and theme that you are going for.
If you are getting married in the Bay Area, there are plenty of locations to get these photos taken, and this article is going to go over a few of the options worth considering.
Baker Beach
The San Francisco area is full of many great beaches, but one of the best is certainly Baker Beach. If you are getting your wedding photos in San Francisco, there is a good chance you may want the Golden Gate Bridge in the shot. Baker Beach offers you a great opportunity to take photos in front of this gorgeous bridge, and has a ton of beach to explore.
It is a very convenient place to get, features great parking, and is very popular as a result. Another solid choice is the nearby Marshall Beach, which is a little less well-known, but still provides a wonderful location for some great shots. It is also a good choice for those who may like a little more privacy.
Pier 7
There are a lot of reasons why Pier 7 has long been a popular place for engagement and wedding photos alike. First, the rustic wooden pier has a very classic look that many people are going for. Also, being surrounded by water and boats provides a unique background that you simply cannot get in many other areas.
However, it is often the scenic views of the downtown buildings in the background that give this space that special feeling. Add all of these benefits together and you have a truly wonderful place to get wedding photos taken. This area can be a bit busy at times, so finding the space and time for a photoshoot won't always be easy, but certainly can be done.
The Conservatory of Flowers
If you or your spouse are plant and flower lovers, there is no better place to get your photos taken than at the Conservatory of Flowers. This is a greenhouse and botanical garden that is home to many types of exotic and rare plants and flowers. You can immerse yourself in many different areas, and take photos with incredible backdrops.
Built way back in 1879, this location has a ton of history and is a classic choice for those getting married in the bay area. It features thousands of plant species, so no matter your specific floral interests, there is a good chance you can find them here.
The Palace of Fine Arts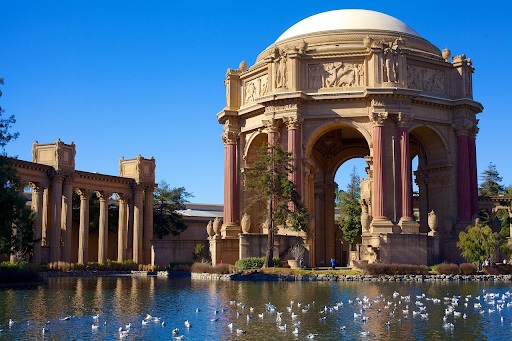 This is truly one of the most stunning and unique locations in all of the bay area. The Palace of Fine Arts is a large structure and space that includes a large and open rotunda that stands over 160 feet high, as well as a lagoon, exhibition center, and much more.
Originally created for an art exhibit back in 1915, the structure is now used to host events, trade shows, and of course, weddings and wedding photos. It is incredibly well-made, has a ton of detail, and makes you feel like you are in Rome.
Whether you get the photos taken within the structure, or with it in the background, it is a wonderful choice for some unique wedding photos.
Point Reyes
If you are willing to make a drive of around 2 hours out of San Francisco, you can be rewarded with one of the single best places to get wedding photos taken. Point Reyes is a location with a ton of variety in terms of where you can take photos.
There is a large and stunning tree tunnel that makes a great backdrop, many different hikes that provide amazing views, a shipwreck, a lighthouse, and many amazing beaches. Sure, it is a bit of a trek compared to other places, but it is well worth the trip. It will also generally be quite quiet, and feel more like you are in Ireland or Scotland, than right outside of San Francisco.
Fort Point
This is one of the more underrated places on this list, but still certainly worth considering. Fort Point was built in the 19th century in order to protect the Golden gate mouth of the bay, and it was actually built before the famous bridge that now resides above it.
It has great historic architecture, and if you go at the right time, the soft light that flows through the old windows is spectacular on camera. It has very easy and quick access, and there are plenty of different places to go to ensure you get the private and intimate shots you desire for a wedding or engagement.
San Francisco City Hall
If you like a more classic wedding photo in a hall or with a larger city vibe, the San Francisco City Hall is an obvious candidate for you. The architecture and detail is stunning, and it is a wonderful, affordable and convenient place to get married, in addition to taking beautiful photos there.
Everything from the archways, to the stairs, to the sculptures, to the ceiling are all breathtaking and can contribute to some photos you will happily remember forever. Be sure to try out many different locations throughout the hall for photos, to see which ones you like best.
Any of these locations are the perfect places to get some absolutely stunning wedding photos taken.